After sharing I get this email:
I touch Add Printer. Then it asks which app to open.
I touch Cloud Print and then ALWAYS. Then it does a search which takes a minute. Eventually it shows the printer:
I touch the newly shared printer. It asks for confirmation than you want to accept the invitation. I touched Accept and it says Processing invitation.
Once that is complete, I perform a test print by printing the email. I touch the 3 dots at the top and then choose Print: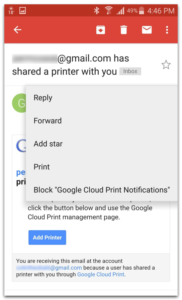 The next screen shows me the newly added Cloud Printer and I touch the printer icon: