Mac OS pdfs and Adobe docs are deleted on printer when using Konica Minolta driver
Symptoms
When printing from a Mac using an Adobe product, the job is deleted on the printer. In the job history of the device it states that the job was of Type Save and Result is Deleted Due To Error:
When looking at the error detail on the printer panel, it states that there was a Login Error: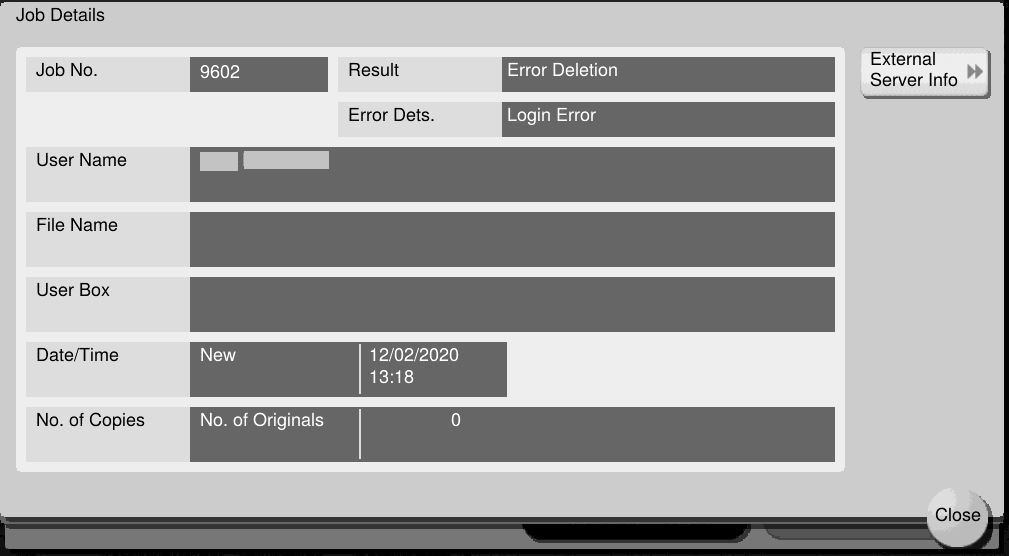 Cause
The print dialog default setting has the Output Method set to Secure Print. This drop-down is greyed out and cannot be changed.
To check this is the case, click the Printer button on the print dialog when printing from an Adobe product:
Note that the Output Method is set to Secure Print and greyed out:
Resolution
Open a web browser and enter localhost:631 in the address bar:
Click the Administration link:
If the web interface for cups has not been enabled before, the following message will be displayed:
To enable the web interface, open the Terminal app: Finder > Applications > Utilities > Terminal:
In the Terminal, type: cupsctl WebInterface=yes
The system will prompt for admin credentials. Enter them and click Modify Settings:
Now in the Administration menu of the CUPS web interface, click Manage Printers:
Click on the print queue that you would like to edit:
Choose Set Default Options:
Set the Secure Print Only option to Off and click Set Default Options.
Now the workstation will need to be rebooted.
Document revision date: 2020/02/12
Software version: 2.2.62.1